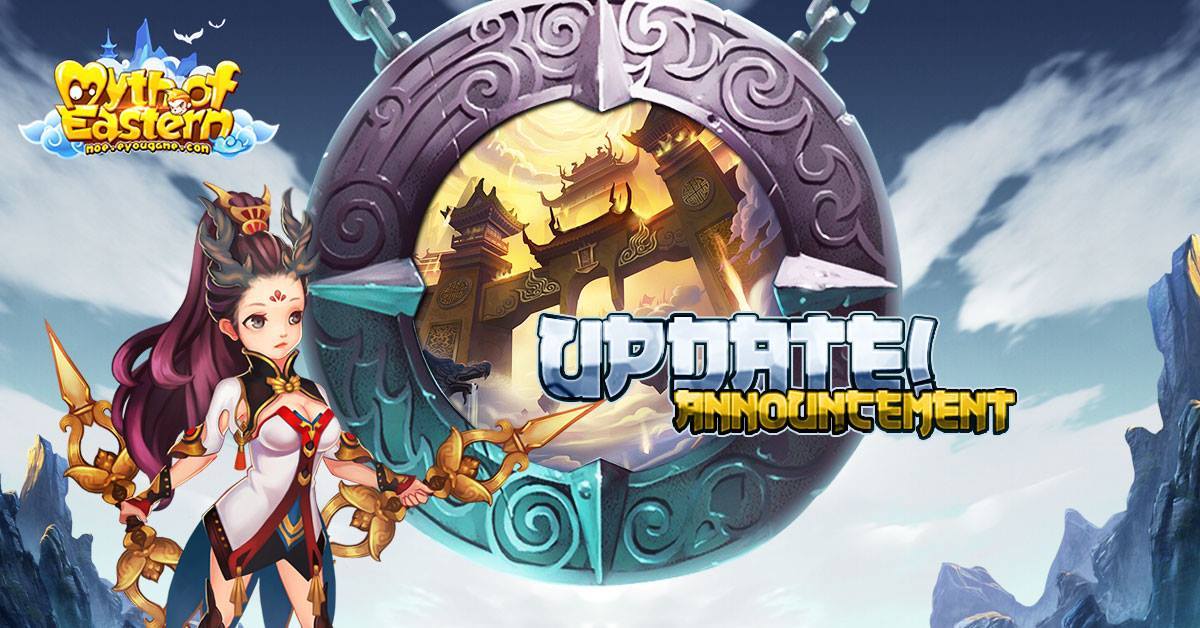 《Myth of Eastern》can be download at :-
Andriod:https://goo.gl/YtNK5D
IOS: https://goo.gl/MpTk4P
or
Download Link: http://goo.gl/Gwv2z7
or search 'Myth of Eastern' in App Store/Play Stor
Facebook: https://www.facebook.com/eyoumoe
Email: [email protected]
Instagram: eyougame_moe
MOE will have all servers' version update on 24th August 10a.m to 24th August 12p.m. Travellers won't be able to log-in normally and continue the journey. You will be able to log-in as usual upon the completion of update. Please All travellers to log-out 5 minutes before the update starts in order to avoid unnecessary losses. Please wait patiently. We apologize in advance for any inconveniences caused. Your supports are much apprecited!
Update Contents
1. New Partner Assist
This function unlocks at Lv. 80 of character and can be reached by clicking the [Assist] button in the

bottom of [Partner] interface

You can select undeployed partner to assist you. After 3 rounds of battle, assist partner will have a

chance to enter battlefield in every subsequent round.

You can insert rune in assist partner. The rune is divided into two types, which are active and passive.

Additional effect of rune will be activated when assist partner enters battlefield. The rune can be gained

through guild auction, Peak Battle and World BOSS.

Different partner will have different assist effect. Choose wisely to ensure your victory~

Upgrade of assist level will increase the chance of partner to enter battlefield and also unlock

more rune slot. You can find required upgrade material in Silver Market
2. New Divine Ascend
After reaching Lv. 119, you'll meet level seal. Only when all players complete the task of Divine Ascend,

the seal will be broken enabling upgrade to Lv. 120.

The task is divided into Epochly Stone Collection, Epochly Beast Challenge and Divine Ascend

Epochly Stone collection: Players of all servers work together to collect a certain number of

Epochly Stones to summon Epochly Beast

Epochly Beast Challenge: After collecting Epochly Stone, the Epochly Beast will arrive in

Moon Palace. Anyone can proceed to challenge it. Once the beast is defeated, all servers can

enter next stage. The ones who defeat the beast will gain rich reward and a unique title!

Divine Ascend: Every player need to make through this instance which consists of three

challenges which are Nether Evil, Celestial Dipper and Inner Devil. You can invite friends

to challenge this instance and gain reward together.
3. New Cross-server Guild Spirit Pulse
C.S. mode is now available in Guild Spirit Pulse.

New function – Fury

When your spirit pulse is snatched or failed in spirit pulse battle, you will gain "fury" which can

be consumed to use corresponding fury skill.

There's a vast variety of fury skills which can increase raven benefits as well as battle attribute

of spirit pulse raven. Do not miss it.

Weekly target reward is now available. You can gain reward after completing a certain number of raven

in Guild Spirit Pulse and C.S. Guild Spirit Pulse every week.
4. Second Advancement of Arcane Partner and Divine Partner
You can open by interface of Arcane and Divine partner by clicking advance icon in partner interface

Arcane and Divine partner of Lv. 93 can be upgraded to rank 2 while of Lv. 103 can be

ungraded to rank 3

Stunning special effect and unique suffix will be gained after advancement
5. Guild A. War
Guild A. War unlocks at guild Lv. 2 and will be open at 18:00 every day. Leader and co-leader can

change opening time.

Those that reach Lv. 50 and join the guild more than 24 hrs can join the event

Guild A. War is divided into 5 difficulty levels. The higher the difficulty level, the richer the reward

There're 9 waves of enemy which will attack from the right hand side of the map towards the guild

base at left side.

At the touch of guild base, the enemy will start dealing DMG on it. Once the HP of base turns to 0,

the event is ended.

There's a chance to get Descend Chest from this event. You may find some surprises in it.

Result of Guild A. War will be calculated at 00:00 every Monday. Reward will be given based on

rank of personal donation.
6. New challenge mode in D. Palace Treasure
The newly added challenge mode will be unlocking at Lv. 48 of character

The more you win in the serial battles, the richer the reward.

The reward of normal mode is more abundant now
7. Peak Battle adds 5v5 mode
Each Peak Battle will be changed to 5v5 mode on the last 30 minutes. The first 30 minutes

remained as 1v1 mode

5v5 mode allows 2 persons to team up at most. The matching will select teammates in prior,

and then the opponents

1v1 and 5v5 each has 4 participation chances. Join 5v5 to get additional team rewards~
8. New character Relic - Apocalypse
Collect 30 Apocalypse Soul to activate the relic

Apocalypse Soul can be gained though Peak Battle Redeem Shop

Excessive Apocalypse Soul can be used to redeem for Infuse Gem
9. Character gear enhancement now adds 2nd Breakthrough
Gear level reaches Lv. 100, enhance gear with +15 or above to 2nd Breakthrough by

consuming Universe Stone

Gear successfully 2nd Breakthrough will be increased to +18, and drop to +13 at most if failed

New full body enhancement +16、17、18 set effects with cool special effects~
Optimization
1. Deity Seat optimization
2. Fate optimization
Level cap of fate has been extended to Lv. 7

There're 3 newly added fates which can be gained by players of Lv. 80 and above from Silver Market

Rescue: There's a chance to trigger partner aid when HP is lower than 30%

Adept: There's a chance to trigger partner aid when active revive skill and healing skill is used

Deadly: There's a chance to trigger partner aid after hitting Crit.
3. Upon popular demand, guild spirit pulse task can now be completed by just occupy
2 guild spirit pulse or 3-realm Spirit Pulse
4. Upon popular demand, "Lv. 3 Exorcism" of God of Thunder's transformation card has been
adjusted to "Lv. 1 Exorcism"
5. Upon popular demand, Silver has been added as option in World Red Packet
6. Upon popular demand, the requirement to unlock Peak Battle has been optimized. Now it can be
unlocked on the day you reach Lv. 63.
7. Upon popular demand, the video of Peak Battle will now be arranged based on the rank level.
8. The routing problem of auto- treasure-hunt to Underwater Maze has been fixed.
9. Recruitment rule description has been optimized.
10. Talisman optimization
New active talisman, Gada Mace: Deal DMG to two targets with highest ATK, clear all of their

BUFF and reduce their ATK for 2 rounds

Third talisman slot is now available and will be unlock at Lv. 88 of character.
11. Upon popular demand, class skill of Lv. 120 onwards has been added
12. Upon popular demand, the evolution limit of the strongest Deity Elder has been increased to 800 times
13. Quiz optimization. The question will be produced based on trends in the game world.
14. Optional giftpack optimization. Tips of item will pop-up when you hold the item icon in interface of
optional giftpack
15. Gear Casting optimization. If casted attributes is not saved during upgrade of gear, the system
will save it instantly and upgrade the gear.
16. Game performance optimization. Internal storage is now less consumed, and the game operations
have become more fluent.
17. Newbie procedure has now been optimized to bring you smoother experience
18. CP-refresh problem in the interface of Aura is fixed.
19. Display error in video watching is fixed
20. Auto-fight sequence optimization
Unlock at Lv. 48 of character

You can change the setting in the interface of 【Botting】

Player can set 3 sets of auto-fight in different sequence, but only one set of them can be utilised.
21. Nantian Gate now adds Fl. 71-91 with stronger guards and better rewards, and cooler title!
22. Gear Enhancement Breakthrough optimization
Gears available for breakthrough adjusted to Lv. 80

Gears available for breakthrough will be selected first in Universe Stone interface
23. Optimize the function of client server to provide better gaming experience
24. Optimize wedding function. Unable to repeatedly divorce
25. Fix the issue of Wanted Rank where only one teammate will complete the quest
26. Fix the issue of partner's reduced review amount
27. Fix the issue of display error while switching to tracking interface
28. Fix the issue of battle record display in Guild Spirit Pulse Contest
29. Mount Function Optimization
New tier 16 mount- Jade Kirin, unlocking tier 16 mount skill-Roar

Increase maximum limit of Mount Growth Pill, tier 13~16 mount, max limit of each tier increased to 10
30. Partner review increased to 2 times confirm column
31. Optimize event preview
32. Optimize Talisman Recast interface
33. Optimize Demon Pagoda and Trick Tower selection interface